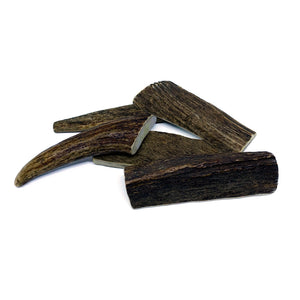 Acadia Antlers
ACADIA Small Acadia Moose Antler Dog Chew for our furry friends up to 20 lbs.
Sale price Price $12.00 Regular price Unit price / per
Our antlers are sold individually. We always offer Premium Grade A Antler quality, a 100% secured shopping experience, as well as flat rate shipping of $8.95 no matter how many you order!
We are cruelty free (no animals were harmed as moose shed their antlers every year and we collect them) and are made and sourced in the USA.  
Some dog breeds that may fit  this weight category (up to 20 lbs)  are Dachshunds, Havanese, Lhasa Apso, Maltese, Poodles, Pugs, Shih Zhu, Terriers , Miniature Pinschers.  Brussels Giffon, Boston Terriers, and Bichon Frise.
Acadia Antlers have no mess or odor, so the dogs stay clean and so does your furniture and rugs!
Correct Sizing is always important – all of our antlers are naturally unique in shape and size. 
If your dog is a bit larger than 20lbs. or a stronger chewer, consider an Acadia Antlers medium size.
** Flavoring is offered for an additional fee, but Acadia Antlers are fresh out of the forests, and simply great as is!**  

NOTE:  Always supervise your dogs while  chewing - When the antler is chewed down to a size that fits in your dog's mouth, it may become a choking hazard. It is time to discard it and replace with  new one. Please feel free to contact us if you have any questions – we love finding out more about your dogs and personally guiding you with your moose antler options.